Disposable income was down by as much as 25% in April, despite the implementation of wage supports and enhanced welfare arrangements for workers impacted by Covid-19.
This is according to the latest Consumer Market Monitor from the Marketing Institute and the UCD Smurfit Graduate Business School.
Consumer sentiment dipped to its lowest level since 2012 with sales of property and cars down 90% in the month.
However, the lack of spending opportunities has resulted in increased savings and pent-up demand may provide a sales boost once shops and services reopen.
Several features of this crisis differ from the last recession and give cause for some optimism about the pattern of future recovery, Marketing Professor Mary Lambkin of UCD Michael Smurfit Graduate Business School said.
The report said that one way in which conditions differ between this crisis and the previous one is the level of government supports for the unemployed.
It is estimated that employee support payments are protecting up to 75% of disposable income which should help to cushion spending.
But despite this, a drop of 9% in consumer spending is still forecast for the full year of 2020.
This assumes a strong first quarter followed by a major drop in the second quarter, a modest recovery in the third quarter, and a good final quarter, today's market monitor predicts.
It said that card spending data – which includes cash taken out at ATMs – gives a good indication of the pattern evident in recent months.
Spending on debit and credit cards was up by 10% in March compared to the same month in 2019 due to the stockpiling that was seen in the middle of the month.
However, card spending fell by 36% in April year-on-year after the shutdown of all but essential retailers and most services outlets.
The consumer market monitor noted that sales of food and drink performed very strongly in March, up 19% year-on-year.
This was partly because of stockpiling but also because people are staying at home and eating more of their meals there. It seems likely that this trend will continue and result in good growth for the year, of possibly 5-10%, it added.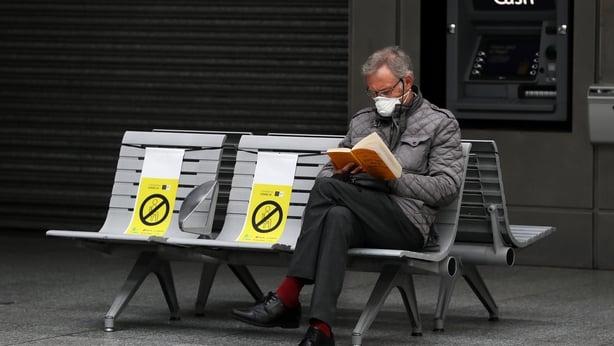 Sales of electrical goods and home furnishings also held up remarkably well in the first quarter, up 12% year-on-year, and were especially strong online.
But sales of clothing and footwear were hit badly, down 52% in March year-on-year, and down 21% for the quarter. Department stores were also badly affected, down 28% in March and 12% for the first quarter year-on-year.
Service sectors such as transport, hotels and restaurants, arts and recreation have experienced drastic falls in business – down 80-90% – in the first quarter of 2020 and it seems unlikely that they will be able to recoup this loss over the summer.
The most likely outlook is for a major loss of business for the year, possibly of the order of 25%, the monitor predicts.
In contrast, sectors such as information and communications and finance and insurance experienced relatively small declines in sales of 10-20% in the first three months of the year.
"This is because many of these services are considered essential and are subject to annual contracts which are paid by direct debit. However, banks and finance providers have moved to offer customers payment breaks on mortgages and personal contract plans (PCPs) where necessary," the report noted.
Sales of big-ticket items like cars and property have also been badly hit. Sales of new cars were down 29% in March and sales of imported used cars were down 39% year-on-year.
This decline in sales was further amplified in April when motor dealerships closed with sales falling by 90%.
On this basis, sales of new and imported cars combined look like they may end the year close to the record low of 104,000 experienced in 2009.
Meanwhile, residential property sales almost ground to a halt since March with agreed sales being put on hold in many cases. Industry experts are forecasting that sales will be down by 25-30% for the year.

Some of this lost spending may have been deferred and may come back later in the year, the monitor suggests.
"There is discussion in some corners about the effect of pent-up demand and whether this will give a noticeable sales bounce across various sectors in the latter part of the year. This will be welcome if it happens but is unlikely to make up fully for almost a whole year of lost sales," it added.
Article Source: Click Here